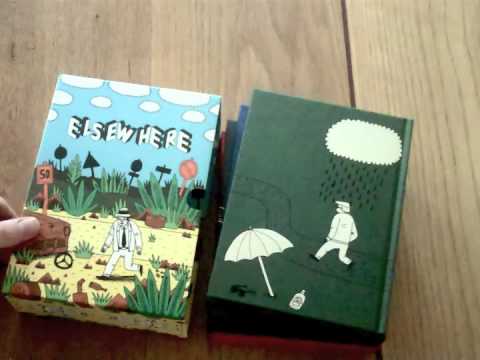 Short fiction fans are set to rejoice as Scottish publisher Cargo Publishing, in conjunction with McSweeney's and the Edinburgh International Book Festival, announce the publication of a 4-book collection of 50 stories from 50 of the top authors around the world.
Launching at the Edinburgh Book Festival on August 16th, in a publishing event featuring Yiyun Li, JA Hopkin and William McIllvanney, the Elsewhere collection – which comprises of three adult books and a book of young adult fiction, with artwork by UK artist Jack Teagle – will be sold exclusively at the Festival, both as individual titles and as a boxset, ahead of a UK-wide release in September.
Originally commissioned by the Festival with help from the Scottish Government Expo Fund, the project sees the coming together of renowned authors such as Michael Morpurgo, Amy Bloom and Roddy Doyle, to write on the common theme of 'elsewhere'. Nick Barley, Edinburgh International Book Festival Director, explains:
We chose 'Elsewhere' because we wondered if it is only possible to write about 'elsewhere' if you can make a meaningful comparison with 'here'? One of the things we are wanted to reveal in this project was a fresh perspective on our identity and our sense of place in this world. The stories and essays are varied, entertaining and generally brilliant, taking the theme of 'elsewhere' as far as the outer universe and as intimately as the hidden corners of our own imagination.
Delighted to be a part of the project, Cargo Publishing's Managing Director Mark Buckland said, "This is a once in a generation collaboration and it's an honour to publish authors like this."
For further details, please visit the Elsewhere website, or find Elsewhere on Facebook. Tickets are also available for the launch event which takes place in the ScottishPower Studio Theatre, on the 16th August at 7:00pm. Please visit the event page for details.